Big D, your humble narrator
I am a 30-ish, happily married male with two great kids, living in Indiana. I Love MOVIES! MUSIC! Trivia, books, TV, Internet & Buffalo WINGS! (Never Breaded.) and yes, I'll admit I'm a geek, I still enjoy gaming (aka Role Playing, D&D etc.) and I saw all three LOTR movies in the theatre Dec. 16/17 2003!!! I am a Speech & Theatre teacher who is currently employed...I am a Christian and a non-smoker who loves to eat. I own an XBOX 360 that I won, A PC & a Mac...basically your garden variety geek.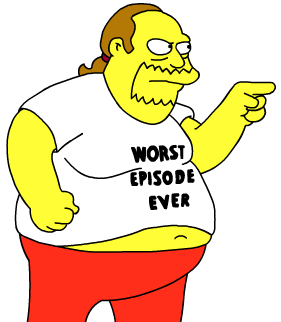 Why listen to me?
A few of my all-time favorites -
Movies: Spinal Tap (Any C.Guest movies), Life is Beautiful, Reservoir Dogs, Places In The Heart, Star Wars, Blade Runner, Office Space, Indy Jones, Requiem for a Dream, Rudy Ray Moore Movies, Bowling for Columbine, Blazing Saddles, Airplane!, Any Cohen Bros. Movie, Tim Burton's Films, Darren Aronofsky, P.T. Anderson, Wes Anderson, etc.
Music: they Might Be giants, Queen, The White Stripes, Weezer, B.B. King, Ramones, Beatles, Oingo Boingo, Violent Femmes, Stones, Talking Heads, Ben Folds (and BF5), Johnny Cash, etc.

TV: The Simpsons!!, Scrubs, Chappelle Show, My Name is Earl, The Office (BBC & US), The King Of Queens, South Park, Family Guy, Spongebob Squarepants, etc.
Books: LOTR Trilogy (3 times), Oh Pure & Radiant Heart, The Lovely Bones, Stupid White Men, any John Grisham, etc.

People who should avoid me:
People who love movies starring Freddie Prinze Jr & Andie McDowell...
Email Me!
The Big Cheese
Want more of my good stuff?
Here's my blog!